Mumbai/Kolkata, 13th October 2023: To commemorate Breast Cancer Awareness Month this year, Medica Group of Hospitals, the leading private hospital chain in Eastern India, organized an insightful panel discussion titled 'Jago Uma' at Medica Superspecialty Hospital on Thursday, October 12th. Distinguished experts on the panel included Dr. Pooja Agarwal, Consultant, Surgical Oncology (Breast Surgery); Dr. Suman Kumari, Consultant in Preventive Gynae-oncology, and Cancer Screening In-charge; Dr. Subhalaxmi Sengupta, Head, Consultant of Onco Pathology, Medica Lab Advance; and Dr. Cinjini Das, Consultant, Plastic and Reconstructive Surgery.
The purpose of this discussion was to create awareness about recognizing symptoms and understanding when they require medical attention. It also delved into the initial diagnostic tests that gynecologists can conduct to assess potential concerns and the appropriate timing for referring a patient to a breast surgeon. The discussion was proficiently moderated by Ms. Arunima Datta, Psycho-oncologist at Medica Superspecialty Hospital.
Breast cancer stands as the most prevalent form of cancer among women in India, constituting 25% to 32% of all cancer cases in women. The month of October is recognized as Breast Cancer Awareness Month, an annual initiative dedicated to spreading awareness about this intricate ailment. During this month, individuals, businesses, and communities unite to express their solidarity with the numerous individuals who grapple with breast cancer.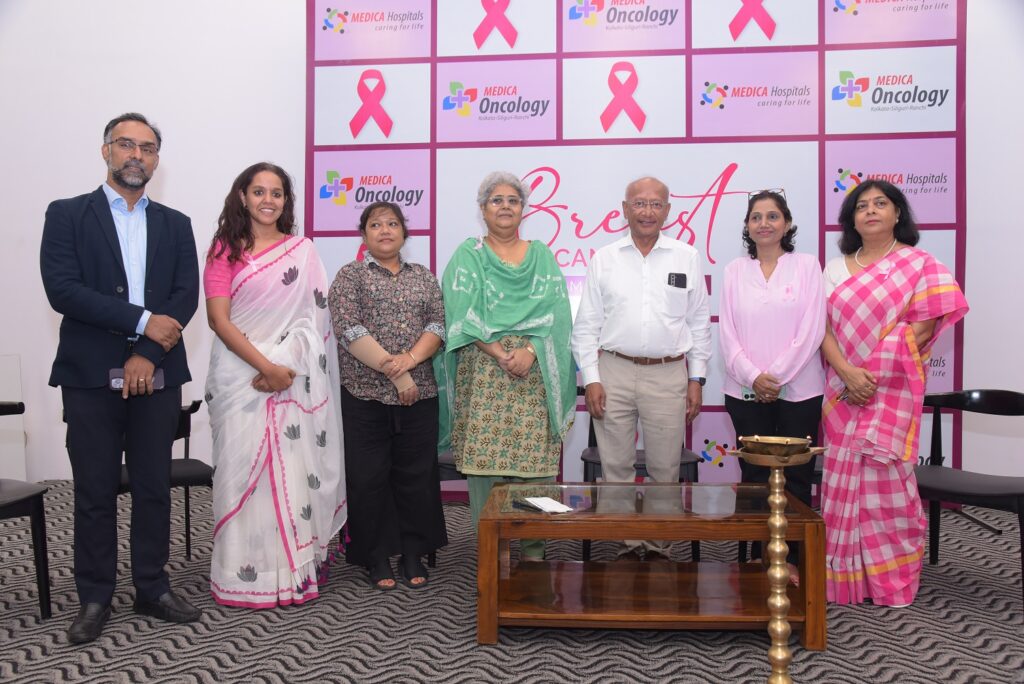 Dr. Pooja Agarwal, stated, "Breast cancer treatment is a journey that requires not only medical expertise but also a strong commitment to self-care and well-being. As breast surgeons, our primary mission is to provide the best possible care, tailored to everyone's unique circumstances. In the realm of breast cancer treatment, attention to detail is paramount. Precise diagnosis, staging, and treatment planning are crucial in achieving the best outcomes. From surgery to radiation, chemotherapy, and targeted therapies, every step must be carefully considered and executed.

Collaboration among a multidisciplinary team is key to crafting a personalized treatment plan that optimizes both survival and quality of life. However, it's equally important for patients to actively participate in their healing process. Self-care is not a luxury but a necessity. A balanced diet, regular exercise, and emotional support are all essential components of recovery. Empowering oneself with knowledge and engaging in open communication with healthcare providers ensures that patients are making informed decisions about their treatment."

She further added, "In India, the current scenario regarding breast cancer is concerning. A significant 36% of female patients succumb to this disease, and a staggering 61% are diagnosed in the advanced stages. These statistics are deeply rooted in cultural factors and a lack of awareness, which are intertwined. In our society, women juggle various roles throughout their lives, often neglecting their own well-being.

Consequently, they tend to overlook their health issues, resulting in delayed cancer diagnoses. This is why we've named our panel discussion 'Jago Uma', aimed at raising awareness among women about the importance of their health and encouraging them not to ignore any health concerns they may encounter." During the panel discussion, Dr. Suman Kumari, shared, "Breast cancer awareness is our first line of defense. Knowing the symptoms and understanding when to worry can empower us to take control of our health. Early detection is our greatest ally in the fight against breast cancer."

Dr. Subhalaxmi Sengupta, expressed, "As onco pathologists, we find ourselves at a crossroads in breast cancer treatment. We reveal the story written in breast tissue under the microscope, distinguishing between benign and malignant, non-threatening and threatening. We detect the disease's numerous faces, from its various forms to its level of dissemination, paving the path for precise and tailored care. With this knowledge, we empower patients and their medical teams to make informed decisions on the route to treatment."

Dr. Cinjini Das, shared, "In the evolving landscape of breast cancer treatment, we've witnessed a profound shift over the past two decades. Radical mastectomies are now the exception rather than the rule, with breast-saving procedures emerging as a gold standard for small tumors. We must not underestimate the profound psychological impact of these treatments, including radiotherapy and chemotherapy. As plastic surgeons, we are increasingly called upon to restore not only the physical form but also the emotional well-being of our patients. Our expertise in breast reconstruction and cosmetic enhancements plays a vital role in helping survivors regain confidence and quality of life. And when mastectomy remains the best option, immediate breast reconstruction is not just an option, but a mandate, to ensure comprehensive care for our patients."

Summing up the panel discussion, Ms. Arunima Datta emphasized the significance of prioritizing the emotional well-being of individuals facing breast cancer. She stated, "Recognizing the importance of nurturing the mental health of breast cancer patients is just as vital as addressing the physical aspects of the illness. From the complexities of diagnosis to the unpredictable journey of treatment and the emotional aftermath, it's imperative to acknowledge that healing encompasses more than just the physical. Compassion, empathy, and personalized mental health support serve as a guiding light, offering hope to these courageous individuals on their path to recovery."