03rd October 2023: Hipi, India's leading short video app, has once again proven its commitment to nurturing creativity and providing a platform for aspiring talent with the hugely successful Hipi Lipsync Battle. This unique competition has become a shining beacon for all the lip-sync creators out there, offering them a chance to showcase their lip-syncing skills and win once-in-a-lifetime opportunities that can change their lives forever.
Hipi Lipsync Battle has captured the hearts of millions of participants and viewers alike, becoming a phenomenon with staggering numbers in terms of participation, engagement, and views. With over 5.5 Lac entries, it has exceeded all expectations, standing tall as a testament to the incredible talent present within the Hipi community.
At its core, Hipi Lipsync Battle is about celebrating the art of acting and expression through lip-syncing. Whether it's imitating famous movie moments or delivering iconic dialogues, creators from all corners of the country have embraced the challenge with unbridled enthusiasm.
This six-month competition had been designed to offer a variety of themes, encouraging creators to explore their versatility. Each month, participants were presented with unique lip-sync challenges, allowing them to perform songs or dialogues in their preferred language. The campaign started in the month of February with #Love as the prime theme, March was all about #StudentLife, April revolved around the theme #Shayari, May was themed as #Retro, June was centered on #HeartBreak, July was a hit with #LOL.
The #Lol theme's success was evident not only from the sheer number of entries but also from the vibrant interactions it sparked within the Hipi community. Laughter became a unifying factor, transcending cultural barriers and languages. Users from diverse backgrounds found common ground in humor, and this sense of camaraderie fostered a positive atmosphere on the platform.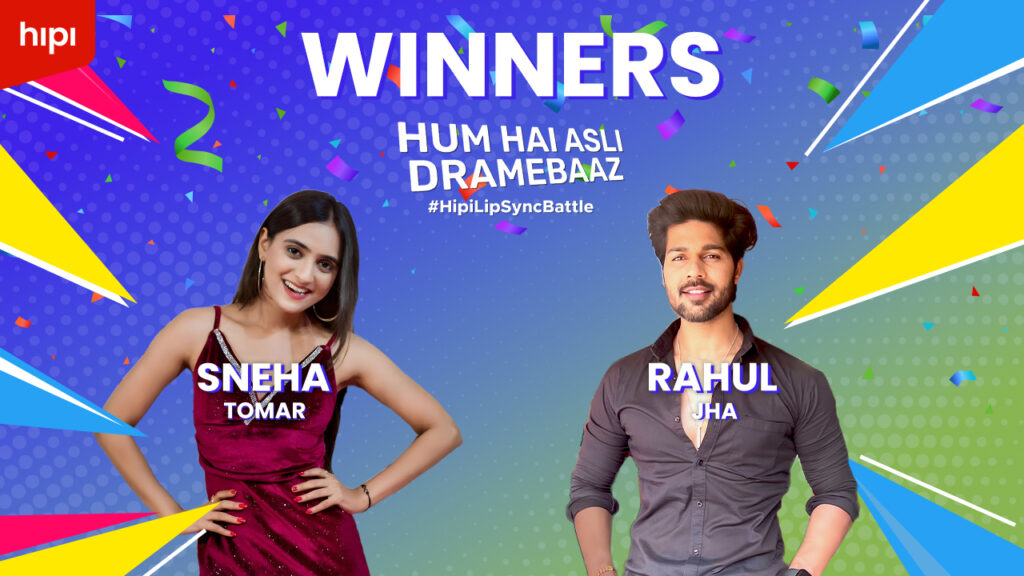 A panel of esteemed celebrity judges, including the likes of Ishita Dutta, Tanvi Thakker, Aanchal Munjal, Shweta Sharma, Shivangi Khedkar, and Swati Kapoor, meticulously evaluated the submissions and crowned a monthly winner each, who received a cash prize of Rs. 15,000. These monthly winners later competed against each other in the ultimate showdown for a chance to grab the grand prize – A remarkable cash reward of Rs. 1 Lac and a coveted opportunity to feature in a music video launched by Zee Music Company.
The success of Hipi Lipsync Battle can also be attributed to its interactive and engaging Leaderboard system. Creators have been competing daily to win cash prizes of Rs. 1000 by garnering the most likes on their challenge videos. This competitive aspect not only incentivizes participants to excel but also keeps the Hipi community highly active and invested.
"At Hipi, we believe in empowering talent and providing them with opportunities that can transform their dreams into reality. Hipi Lipsync Battle has not only been a resounding success in terms of numbers but has also allowed us to connect with extraordinary talent among our users. We are overwhelmed by the passion and creativity that the creators have brought to this competition", said GBS Bindra, Chief Business Officer of Hipi.
Hipi Lipsync Battle reached its exhilarating conclusion, crowning two extraordinary creators as the Grand Winners. Rahul Jha and Sneha Tomar emerged victorious, securing the coveted Rs. 1 Lac cash prize and an incredible opportunity to feature in a music video for Zee Music Co. Original. Their outstanding performing skills and dramatic flair captivated the audience throughout the competition, earning them well-deserved recognition as the ultimate champions. The Hipi community celebrates their triumph, and their inspiring journey is all set to ignite the dreams of aspiring creators worldwide.