Noida, October 9, 2023: The streets of Noida came alive today as hundreds of passionate individuals, athletes, and supporters gathered to participate in the IKRIS Pharma's much-anticipated "Ikris Run 2023". This event, which was organized by the IKRIS Pharma Network, India's leading rare disease and innovator drug access facilitator, along with Sattva Shilp and Noida Entrepreneurs Association proved to be an overwhelming success in raising awareness about breast cancer and promoting the importance of early diagnosis of the condition.
Breast cancer remains a formidable challenge that affects countless lives around the world, and the situation is no different in India. According to a study by Globocon 2020, In India, every four minutes a woman is diagnosed with breast cancer. With some 1,78,000 new cases being diagnosed every year, the incidence of breast cancer has overtaken cervical cancer to become the most common cancer in Indian women.
A half-an-hour zumba session was organized before the run so that all the participants could have an exhilarating warming up. Around 600 participants competed across the four separate events – a 5 KM run, a 10 Km run, a 10-mile run, and a 3 KM walk with the last being a non-competitive event. All the participants were given an e-tag to record accurate timing over the course of the run the runners, who were felicitated with medals and certificates during the culmination of the run.
A post-Run interaction with the chief guest Dr Meenu Walia, Senior Director & HOD, Dept of Medical Oncology and Hematology, Max Hospital, was also held. Dr Wallia is the first DNB Medical Oncologist in India.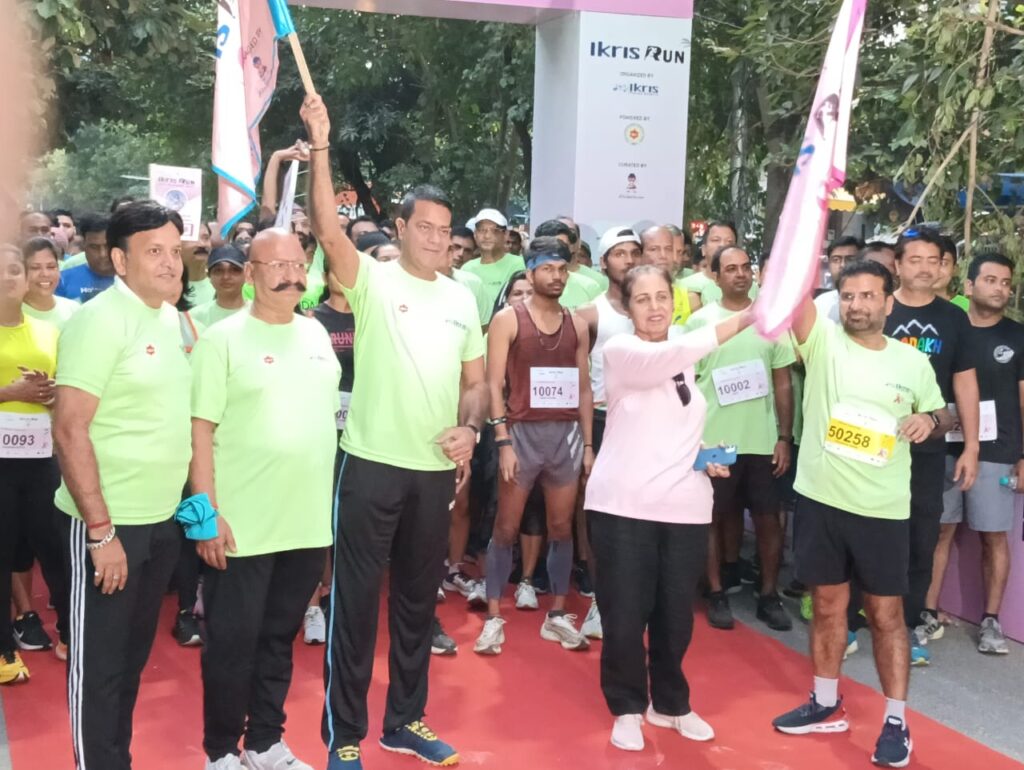 "In a country like India, early breast cancer diagnosis is of paramount importance due to its potential to save countless lives. The sheer size and diversity of the Indian population mean that access to healthcare resources varies greatly, with many individuals residing in remote or underserved areas. Timely detection allows for less invasive and more effective treatment options, reducing the physical, emotional, and financial burdens on patients and their families. Additionally, by catching breast cancer in its early stages, healthcare systems can allocate resources more efficiently and cost-effectively, ultimately contributing to better outcomes and long-term survival rates. Early diagnosis not only enhances individual well-being but also plays a crucial role in reducing the overall burden of breast cancer on a national scale, making it an imperative focus in India's ongoing efforts to combat this prevalent disease. Awareness has been created over the years towards breast cancer and we are fortunate that Ikris Pharma has taken up the mantle to raise awareness and catalyse action against the disease," said Dr (Prof) Meenu Walia.
The IKRIS Pharma Network remains committed to its mission of spreading awareness, providing support, and driving progress in the battle against breast cancer. The success of the IKRIS Breast Cancer Awareness Marathon 2023 reaffirms the belief that with unity and determination, we can make strides toward a breast cancer-free future.
" We are overwhelmed by the immense support and enthusiasm displayed by our community during the IKRIS Run. "This event serves as a reminder that when we come together, we can make a meaningful impact in the fight against breast cancer. We thank all participants, sponsors, volunteers, and supporters for making this marathon a tremendous success," said Mr Praveen Sikri, CEO, IKRIS Pharma Network.
Through such a powerful initiative aimed at making a lasting impact on global healthcare, Ikris Pharma is stepping forward as a beacon of hope in the battle against breast cancer.