Hyderabad, October 14, 2023…A seminar on the Rupee Outlook in the current economic scenario was organized by FTCCI in the city on Thursday which concluded late in the night. The seminar was organized in light of the fluctuating currencies in international trade.
Mr. Meela Jayadev, President FTCCI stressed the significance of the Rupee's performance in the current economic scenario and its direct connection to import and export activities.
Setting the tone, Mr. KK Maheshwari, Chair Capital Market Investor Protection Committee, FTCCI sensitized the importance and the volume of effect the currency fluctuations could bring to the EXIM fraternity. He further requested the participants to be watchful of the sessions under the current geopolitical and economic disruptions across the globe.
Mr. Himesh Shah from Finrex highlighted the notable rise in interest rates and its impact on our financial strategies. He shed light on the evolution of safe haven assets, the hawkish Federal Reserve's influence on the US 10-year bond yield, and the significant 15% increase in the Chinese Yuan. He celebrated India's consistent top position in the Emerging Markets Tracker and discussed substantial inflows in the Indian crude oil basket.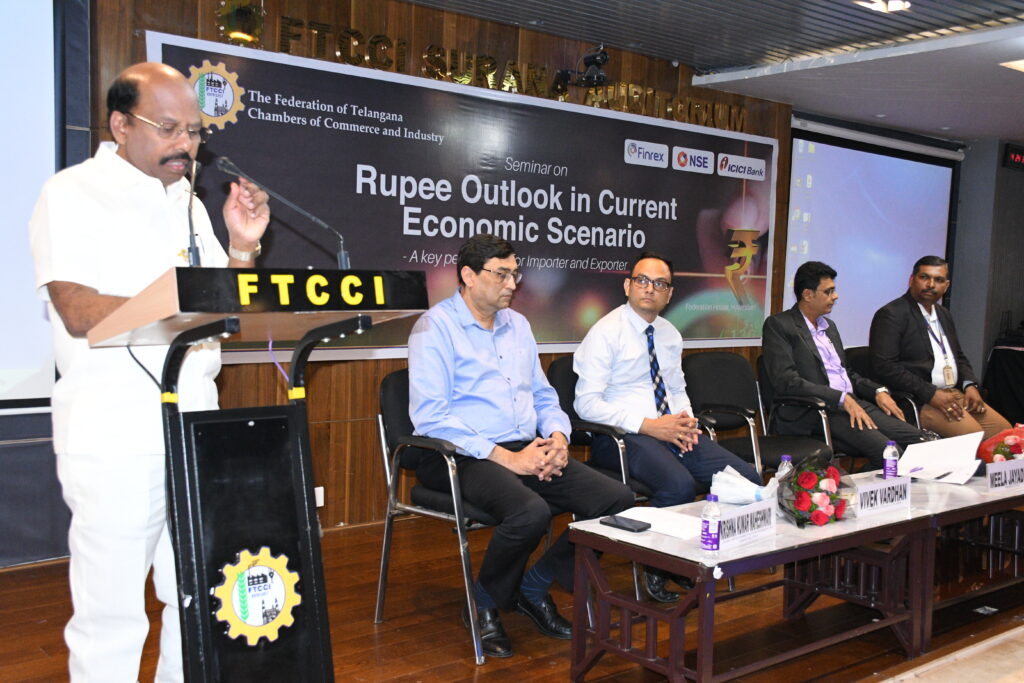 Mr. Abhishek Goud of the National Stock Exchange emphasized that the fluctuations in foreign exchange rates can significantly impact a company's revenue, depending on its specific trade focus. To mitigate this risk, businesses often employ hedging strategies. The NSE's Currency Derivatives, a well-regulated platform overseen by SEBI, provides an efficient solution for entities engaged in forex transactions, with a low entry point of $1000.This platform supports trading in four foreign currency pairs with INR: USDINR, EURINR, GBPINR, and JPYINR. Companies of all sizes are increasingly using this platform to actively manage and hedge their forex exposure.
Mr Anirudh Doma, Regional Head, ICICI Bank Ltd, and Mr. Vivek Vardhan, Chief Manager, Treasury, ICICI Bank Ltd, educated the participants on Hedging Mechanisms and tools in banking to safeguard their balance sheets from forex risk. They also shed light on digital banking in the current scenario and how the Bank has been evolving on this front and helping both entrepreneurs and established business houses ease their banking.
The program was well attended by the industry and individuals to demystify their doubts and understand the nitty-gritty of currencies outlook along with covering the risk of unforeseen currency fluctuations.