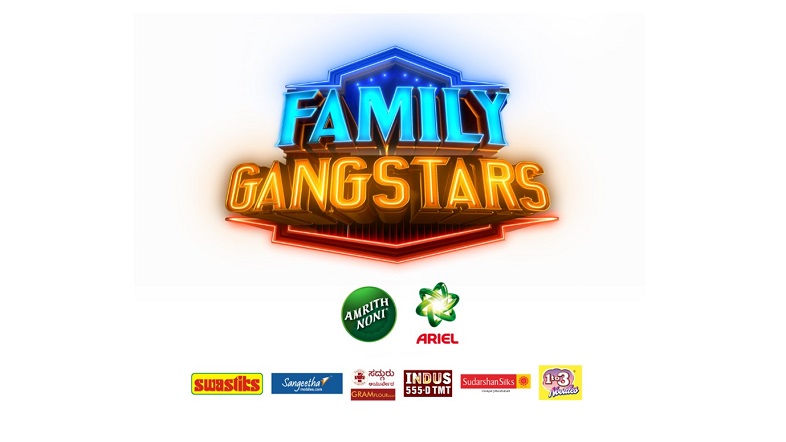 After the successful streak of Gicchi Giligili's second season, Colors Kannada is back with the grandest television extravaganza, "FAMILY GANGSTARS," an entertainment game show featuring television superstars from Kannada GEC.
Powered by Amrith Noni, Ariel and with special partners Swastik Masala, Sangeetha Mobiles, Sadguru Ayurveda Gram Flour Soap, Indus 555 D TMT, Sudarshan Silk Chekpet & Marathahalli, and 1 to 3 Noodles, FAMILY GANSTARS premieres every Saturday and Sunday at 9 PM.
FAMILY GANGSTARS aims to pioneer a groundbreaking concept within the realm of Kannada GEC by seamlessly integrating the talents from 10 acclaimed ongoing shows on Colors Kannada. This unique initiative endeavours to captivate the discerning audience, that is expected to leave a lasting impression.
Television celebrities hailing from popular shows like Bhagyalakshmi, Tripura Sundari, Kendasampige, Antarapata, Geetha, Ramachari, Raja Rani, Nannamma Superstar, Dancing Champions, and Gicchi Giligili will be organized into distinct teams.
The show will present a diverse array of captivating games between teams, unveiling a delightful blend of humor, drama, emotions, and camaraderie among the talented individuals in each episode. With an infusion of engaging content, every episode will showcase thrilling matches and entertaining games between various teams, capturing the audience's attention. Srujan Lokesh, a highly popular television personality, will host the show with his discerning supervision.
This grand family entertainment game show has already created a sensation in the state, garnering an overwhelming response from the audience and attracting seven brand sponsors.
Prashanth Nayak B, Business Head of Colors Kannada, said, "The tremendous response we are receiving from the audience through social media, as well as the interest shown by brands, reflects the confidence in our talented performers. The response we have received has also boosted our confidence on our conviction towards new subjects and experiments. With the participation of talents from all of Colors Kannada's programs, we are confident that this will become the hugely popular and entertaining family show."

Bikash Kundu, Head of Sales – Regional Entertainment, added, "The early involvement of eight sponsors, even before the show's launch, speaks volumes about their confidence in the reach and influence of this grand family entertainment game show. As the show gains popularity, we anticipate a surge in the number of sponsors who want to align themselves with its success, further affirming the show's value and appeal."

Narayan, CEO Amrith Noni, said, "With immense enthusiasm, Amrith Noni is thrilled to announce our partnership with COLORS Kannada for this sensational family entertainment game show. This ground-breaking endeavour marks the first of its kind in the state of Karnataka, and we are honoured to be a part of this extraordinary adventure, seamlessly merging Ayurvedic traditions with modern entertainment. Through this collaboration, our primary goal is to bring boundless joy, laughter, and a sense of togetherness to every household, while also fostering awareness about the remarkable advantages of Ayurveda."

Madhusudan, Managing Director at Innovative Advance Media Management Pvt Ltd, comments, "We are thrilled to announce the exciting partnership with COLORS Kannada. Through our sponsorship of IAMPL clients on this captivating game show, we aim to create a truly immersive experience that flawlessly combines the splendour of our traditional attires with the exhilaration and delight of family entertainment. We are elated to showcase the timeless beauty of our cultural heritage, as we invite viewers to immerse themselves in the joyous atmosphere, we have crafted for them."