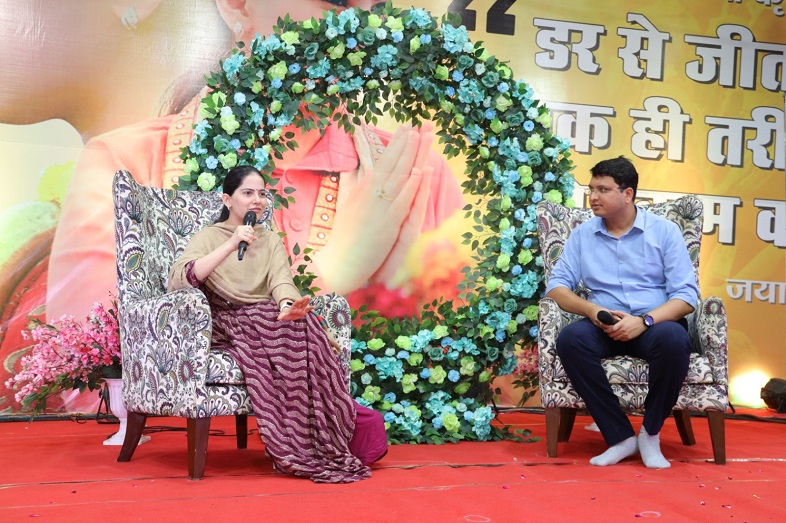 New Delhi, 12th September 2023: Motion Education, a leading institute for medical and engineering preparation, organized a motivational seminar for students in the institute campus. Over 2000 students were present at the event to mark the beginning of the preparation journey on a positive note.
Jaya Kishori, a well-known motivational speaker, spiritual orator, and life coach, was invited as the chief guest of the event. Preparing for medical and engineering preparation is a long-term process that requires a lot of patience, and at times it becomes a daunting task for students. There are days when students become overwhelmed, and it is common to face moments that bring self-doubt. Jaya Kishori's wise words instilled motivation among the students and played a crucial role in guiding them toward overcoming obstacles and maintaining a positive mindset. In her speech, she conveyed students to remain focused and encouraged them to preserve and believe in themselves.
Looking at the rigorous nature of the exam, the results are a time-consuming process, students tend to get anxious, which often leads to fear and stress. The institute is effectively conscious of these developments in a child and hence understands the importance of mental health in their overall development. In order to address the issue, Motion Education organized the seminar with the purpose of inculcating faith among the students, assuring them of their underlying potential to achieve great things in life. It provided much-needed motivation, ensuring children that everything is achievable in life by nurturing a positive attitude among themselves.
Speaking about the seminar, Jaya Kishori said, "It was an insightful and interactive experience at Motion Education. While talking to students, I realized the importance of nurturing a positive attitude in children right from their formative years. It is crucial to remember that these young individuals will eventually enter the real world, where they will be required to be mentally resilient to cope with real-life problems. Hence, instead of making them feel bad about their low grades, they should be rather trained to see it from a different perspective. We need to understand that failure is a great teacher, as success cannot highlight the mistakes".
Providing proper guidance to start their preparation for medical and engineering entrance exams, Nitin Viijay, the Founder & CEO of Motion Education, said, "Every year, a large number of students come to the institute with dreams of getting admission to prominent medical and engineering colleges. Coming to an entirely new environment for the first time, it becomes our responsibility to ease their fears and worries. Hence, the seminar was conducted to showcase our commitment to standing together with students at every step of their preparation. At Motion Education, we are not just focused on enhancing students' academic performance but highly conscious of the mental and emotional health of the child".