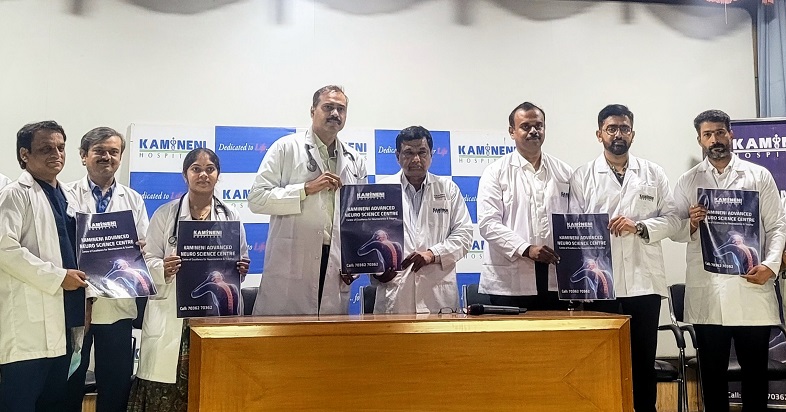 Hyderabad, June 12, 2023: The brain, spine, and nerves constitute the most vital components of the human body. Individuals are increasingly affected by diseases related to the nervous system from birth to adulthood, which include paralysis, epilepsy, spondylosis, brain tumors, encephalitis, neuropathic diseases, and mental disorders. These can be caused by trauma, existing conditions like Hypertension/Diabetes or Genetic causes – to address these challenges, Kamineni Hospital has inaugurated the Kamineni Advanced Neuro Center, which offers comprehensive treatment, for all conditions at all ages, under one roof.
The center boasts a highly skilled team of expert neurologists, neurosurgeons, neurocritical care doctors, neuro radiologists, neuro psychiatrists and neurogeneticist, who provide round-the-clock services. Cutting-edge facilities such as state-of-the-art 3T MRI, 128 slice CT Scan, Neuro Lab, Navigation System, Microscope, and Stereotaxy are available. The team is adept at handling a wide range of neuro problems, from simple cases to complex surgeries. Notably, the center also houses a fully equipped genetics lab, the first of its kind in our state. This lab offers advanced diagnostics, like exome sequencing, to identify the genetic causes of diseases, along with genetic counseling to prevent hereditary disorders, and prescribe personalized drug therapy based on the patient's genetic profile.
Dr. Naveen, Senior Neurologist at Kamineni Hospitals, emphasized the significance of this new initiative by stating, "We are delighted to offer cutting-edge services, including genetic analysis and counseling, to our patients. With these advancements, we can better understand the underlying causes of diseases and provide personalized care."
The launch of the Kamineni Advanced Neuro Center marks a significant milestone in strengthening the neuroscience department at Kamineni Hospital. The center's advanced facilities and expert team will ensure that patients will receive the highest quality care and treatment for all their neuro-related problems.