With the joyous Diwali festival just around the corner, Conrad Pune is delighted to present its exquisite range of luxury gift hampers from its Pune Sugar Box, designed to bring the ultimate Khushiyan (happiness) to your festive season. These meticulously curated hampers are filled with indulgent treats, delectable nibbles, and must-have items, making them the perfect gift to spread joy and celebrate Diwali or any special occasion.
These delightful treats have been carefully curated to capture the spirit of Diwali and bring a smile to your loved ones' faces.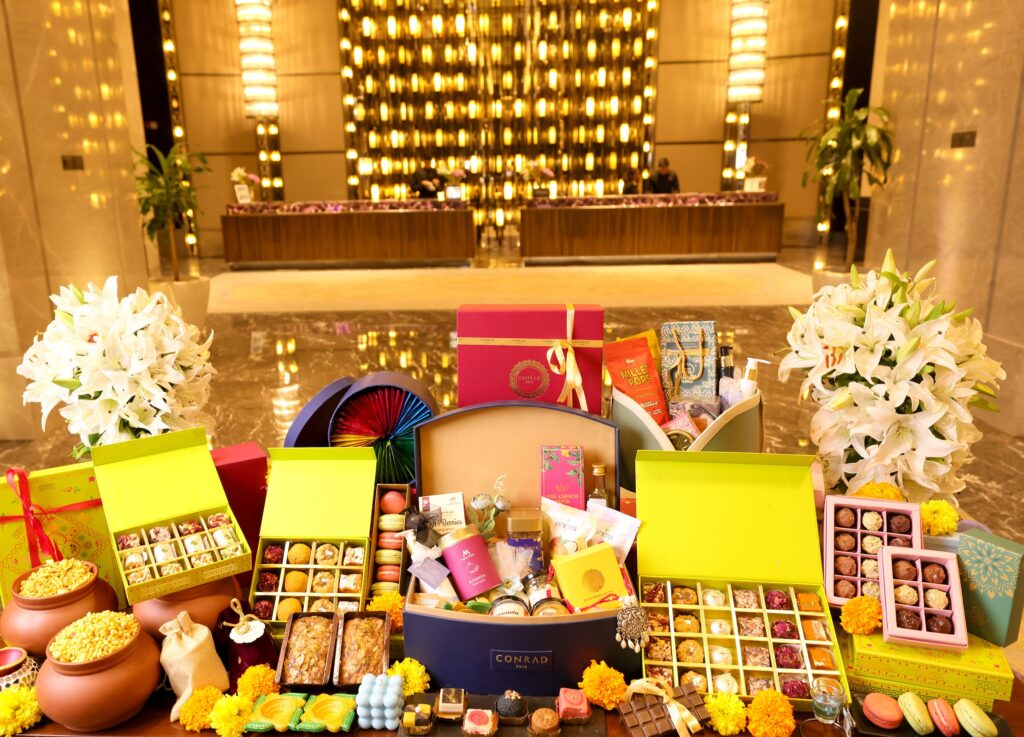 Pune Sugar Box truly dazzles with its festive array of treats that are perfect for spreading the joy of Diwali with your loved ones. And, if you're aiming to elevate the festive spirit and craft an unforgettable box of happiness, look no further than the delectable delights like the Mighty Millets Nutberry Granola, the indulgent Brawny Bear Date Honey (jar), the exquisite Brawny Bear Avocado Oil, the premium Pravahana Almonds, the luscious Pravahana Cashewnuts, and the Tea Culture World's Assorted Tea Box, to name just a few.
Additionally, this Diwali, be sure to relish the festive charm of Pune Sugar Box with their signature treats, including travel cakes, rock chocolates, cookies, and chocolate and mixed fruit bars. Celebrate Diwali with our special festive mithai collection! Enjoy the flavors of Amravati Amla and Beetroot Laddoos, Naralachi Wadi, Nagpuri Santra Velvet Laddoo, and Crunchy Mango Badam Katali. Share the joy by giving these delicious treats to your loved ones.
Join us on October 6th for the grand unveiling of these exquisite sweet boxes. It's the perfect opportunity to discover the sweetness and joy that Diwali brings.
Elevate your celebration to a higher level of style and luxury with Conrad Pune's exquisite gift hamper. Our artisanal sweet boxes offer a delectable treat and provide a sophisticated way to convey your Diwali greetings with flair.
Don't miss out on the opportunity to add an extra dose of sweetness to your Diwali celebrations. Join us for the unveiling of these delightful sweet boxes, and let's make this Diwali a cherished and joyous occasion together.