Andaman, 05 October 2023: In line with the company's plan to enhance its footprints in India to establish a strong foothold across the country, Toyota Kirloskar Motor today inaugurated its latest dealership, Prince Toyota in Andaman and Nicobar Islands, marking the company's entry into a new market. The new state-of-the-art dealership facility will now provide access to TKM's entire range of product portfolio and service offerings to the customers in this region.
The inauguration of the new 1S (Sales) and 2S (Service, and Spare Parts) facilities was honoured with the presence of Mr. Tadashi Asazuma, Executive Vice President- Sales, Service & Used Car, TKM, and Mr. Varinder Kumar Wadhwa, General Manager, TKM along with Mr. Sagar Khurana, Dealer Principal, Prince Toyota.
The Sales facility (1S) is located at Garacharma, Port Blair, South Andaman, and the Service and Spare Parts facility (2S) is located at Prothrapur, South Andaman, Andaman and Nicobar Islands. Together, they will play a crucial role in providing a comprehensive experience to the discerning customers in the region with Toyota's range of products on display, host of services, maintenance packages as well and spare parts, ensuring them top-notch support and assistance for their Toyota vehicles.
Prince Toyota's impressive sales facility, covering over 6000 square feet of area, is an exclusive and independent customer touchpoint, providing customers with a welcoming & warm atmosphere. The new dealership will showcase the entire range of Toyota offerings from the latest additions of Rumion, Innova Hycross, Urban Cruiser Hyryder along with class-leading products like Innova Crysta, Fortuner, Legender, Hilux, Glanza, Camry Hybrid, and the Vellfire.
The Service area spread over 10000 square feet is designed to offer a delightful customer experience with the highest standards of vehicle care in the Andaman and Nicobar Islands. In addition, the team of highly trained sales and service professionals will also ensure that Prince Toyota is well-prepared to deliver exceptional service and maintenance to the Toyota owners, thereby ensuring an awesome ownership journey.
Furthermore, along with its legacy of Quality, Dependability, and Reliability, TKM is also bringing its most renowned "Hybrid Technology" to Andamans. Toyota's Self Charging Strong Hybrid Electric Vehicles (SHEV) are designed to offer a smoother, silent, and more efficient drive thus accelerating a carbon-neutral future that will contribute to preserving the fragile ecosystem of the Andaman Islands. The eco-sensitive areas of Swaraj Dweep and Shaheed Dweep (Havelock and Neil) are seeing a sharp rise in tourism, resulting in the need for environment-friendly vehicles. Customers from such areas will now have access to the low carbon emitting hybrid vehicles from Toyota, that are equipped to handle the diverse needs of the region.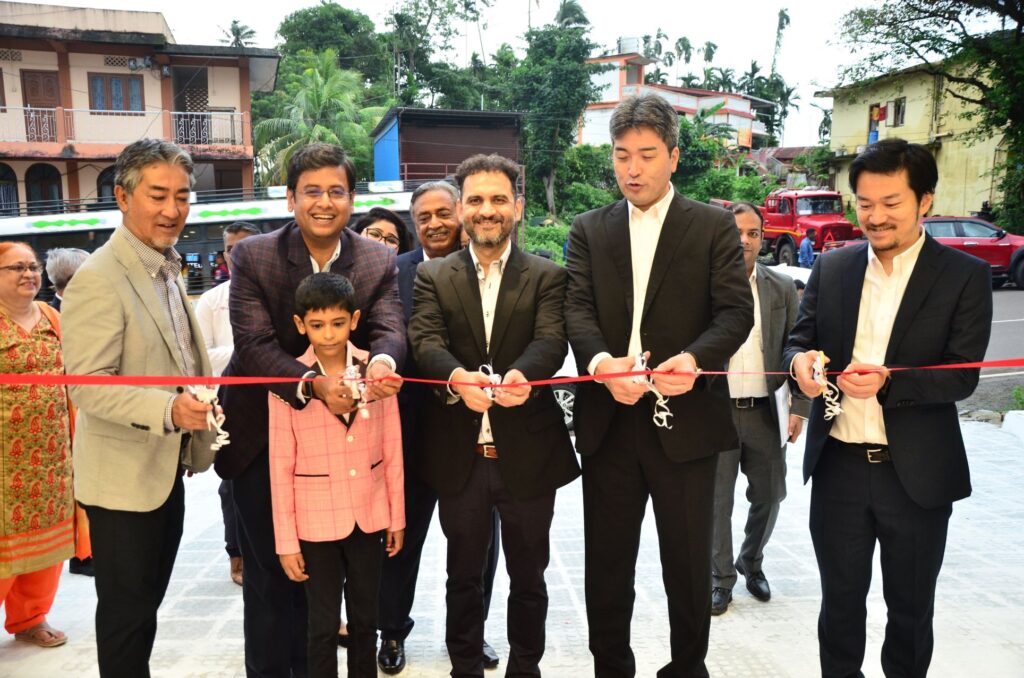 Mr. Sagar Khurana, Dealer Principal, Prince Toyota said, "We are thrilled about our new partnership with Toyota Kirloskar Motor as we eagerly look forward to providing customers with improved access to Toyota's world-class products and a range of customer-centric after sales service solutions. Our facility is designed to offer a complete Toyota experience, combining comfort, convenience, and service quality that align with Toyota's globally renowned standards. We are enthusiastic about nurturing this new partnership with the Toyota brand, and will remain steadfast in our commitment towards customer centricity to build strong and lasting relationships with our customers here."

Commenting on the inauguration of Prince Toyota Mr. Tadashi Asazuma, Executive Vice President and Head of Sales, Service & Used Car, TKM said, "With the inauguration of Prince Toyota, we are elated to embark on a new journey that will enable easy access to Toyota's wide range of products and services, to our customers of the enchanting Andaman and Nicobar Islands. Owing to its natural beauty, rich heritage and culture, the islands have huge growth potential for tourism. We strongly believe that our recently introduced models, equipped with environmental friendly Self Charging Strong Hybrid Electric Vehicle (SHEV) Technology, the Innova Hycross and the Urban Cruiser Hyryder are best suited, practical and sustainable solutions to meet the varied needs of our customers in the islands, at the same time contribute positively to the ecology of the region and society at large. We are happy to engage Prince Toyota as our partner as we share the same customer centric values and goals of creating customer delight at every touch point. With our new facility at Prince Toyota, we are confident of providing an awesome ownership experience to our customers in the beautiful Andaman & Nicobar Islands."
With the addition of Prince Toyota, TKM now boasts an impressive 615 customer touchpoints thus demonstrating the company's dedication to reaching customers in every corner of the country, providing them with quality vehicles and excellent service.