9th October 2023: The intra-community rivalry between the ghotis & bangals has made for some fun banter over the years. No family gathering in a traditional Bengali household is ever complete without members of each side striving to establish one-upmanship, be it on culture, language, sports, or food. As this contest of words and wit ensues, this Durga Pujo, Licious brings peacetime & festive fervour with an extensive spread of meaty delights.
In its latest film, the brand brings together the ghotis & bangals to celebrate the spirit of Pujo with Bengal's best – Hilsa, Prawn, Mutton, and much more! The film now live on Licious' Insta and YouTube pages, showcases a chapter from the book of ghotis v/s Bengals that ends at the dining table with a mouth-watering feast of kosha mangsho, malai curry, bhapa ilish, muitha, ilish bhaja and pabdar jhal.
Santosh Hegde, Vice President of the brand at Licious, says: "The Durga Pujo film underscores our belief that good food has the power to unite even the most spirited cultural rivalries. And there is no better way to celebrate the rich Bengali heritage than through its flavoursome cuisine. Armed with our expertise in meat & seafood, we have the leverage to offer specialized products & cuts to ensure our consumers have a memorable Pujo celebration. So whether you are a ghoti or a bangal, whether you prefer hilsa, prawn, or mutton – Licious has you covered this Pujo!"
The film is set in a bustling Bengali household, abuzz with vibrant decor and preps for Durga Pujo. The dinner table is set with the choicest of dishes and meaty delights, right from ilish macher bhaja, muita, pabdar jhal, kochi pathar jhol, and more. Just then the lady of the house gets teased by her ghoti relative on whether the spread today features bangal specialities or are there any ghoti delicacies as well.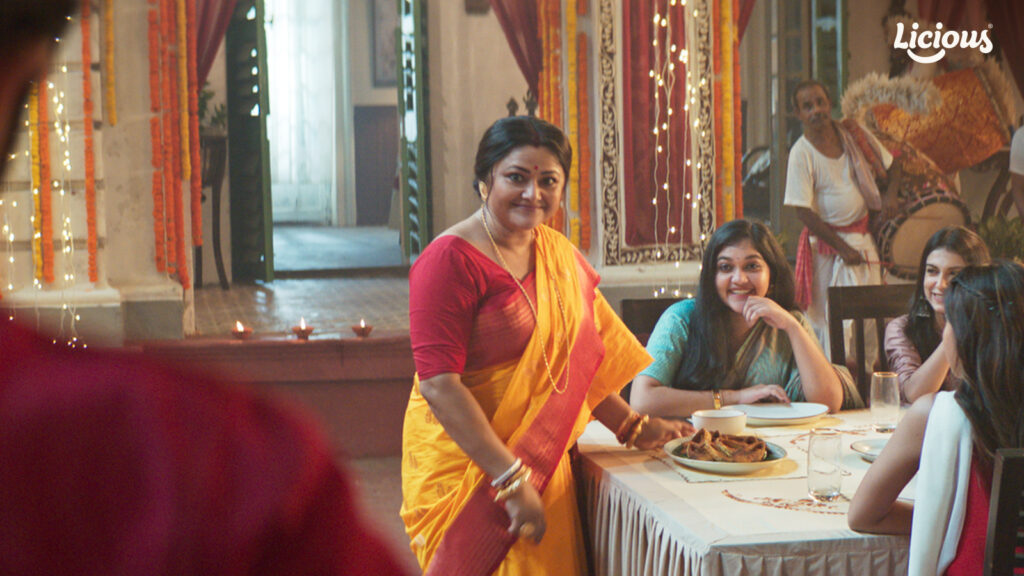 For the uninitiated, people originating from East Bengal (now Bangladesh) are referred to as 'Bangal' and those hailing from West Bengal are called 'Ghoti'. With witty banter and humourous rejoinder, the debate continues in true Kobir Lorai style (a poetic volley of words between 2 people, set to a tune & aimed at outsmarting each other) as the lady and her 'opponent' continue to take a dig at each other's cooking styles, choice of fish and more.
The rhythmic beats of the dhak add to the tempo of this Lorai; onlooking family members cheer on, at times even singing along. Who wins, you wonder; of course, the meaty delights by Licious do! Young family members intervene to remind us that this isn't the time to argue, but it's the time to come together & enjoy the delightful spread that's brought the family together, all thanks to Licious. Amidst laughter & marked by the festive spirit, the family rejoices with the delicious Pujor Mahabhoj made with Licious' offerings for the season, forgetting all about their differences. After all, tasty meaty delights from Licious are what every ghoti and bangal would unanimously bond over this Pujo season.