30TH October, India: Third Wave Coffee, a coffee-first QSR brand, announced the grand opening of its 46th store in the city at the Phoenix Mall of Asia, Bangalore on Friday. Being one of the largest Malls in Asia, this launch marked a significant milestone with Third Wave Coffee's 109th outlet in India, showcasing the brand's commitment to crafting an unforgettable coffee experience. The outlet was inaugurated by Ayush Bathwal, Co-Founder, of Third Wave Coffee, Manish Singh, Group Director and head of Retail Leasing, The Phoenix Mills Ltd., and Basil Mathew, Senior Vice President of Leasing, Phoenix Group.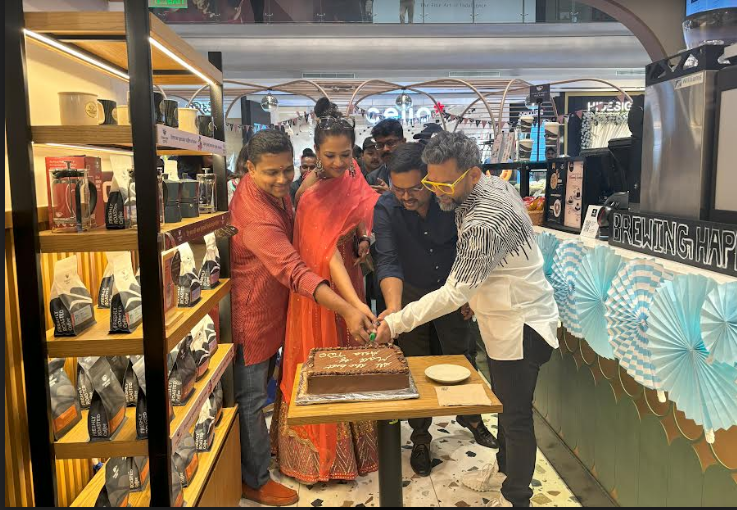 The store spanning over 1,062 square feet offers ample indoor and outdoor seating for coffee enthusiasts to relax, work, or socialize while enjoying their favorite brews. Patrons can look forward to a delectable selection of coffee and food items from the menu, including special Limited-Time Offerings such as Swiss Mocha Toffee Nut, varieties of bagels, and Choco-Bliss Pancakes. The store also has a dedicated retail section where customers can purchase coffee beans, brewing equipment, and other coffee-related merchandise.
Sanjay Patil, Senior Vice President, Projects, Third Wave Coffee, said, "Our new store at Mall of Asia is more than just a coffee destination. It's a fusion of design excellence and the coffee culture we cherish. We've meticulously woven every element, from the seating to the artwork, to create an unforgettable coffee experience for our patrons. Our new cafe is a step forward in our commitment to expand our footprint across India and bring the best coffee brews and food offerings to the growing community of coffee lovers throughout the country. With the launch of our new store, we are excited to bring our unique coffee blends and food offerings to more people in Bangalore and to share our passion for coffee with them. We are committed to providing our customers with the best possible coffee experience and to making specialty coffee more accessible to everyone."
The new cafe elevates coffee into an art form and a design marvel. Inspired by the mall's uber-premium design theme, it seamlessly integrates with the mall's aesthetics featuring gold and rose gold colours in curved forms, skylights, and intricate coffee-bean artwork. The incorporation of a wood finish imbues the surroundings with a comforting and inviting warmth.
Committed to serving its community with quality and excellence, Third Wave Coffee's new launch offers discerning customers a warm and inviting space to unwind and enjoy a great coffee break between shopping sprees.