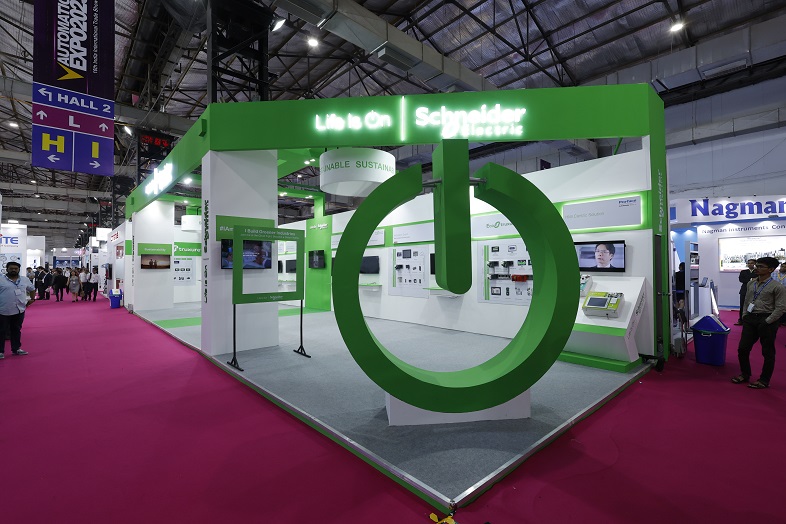 Mumbai, August 25th, 2023 – Schneider Electric, the leader in the digital transformation of energy management and automation, today unveiled an array of new technologies and software solutions at the Automation Expo. Southeast Asia's biggest exhibition for the automation industry. Through these offerings, the company aims to help industries address the global priorities of energy security, resource efficiency, and sustainability.
Talking about Schneider Electric's presence the event, Mr. Senthil Kumar V, Vice President, Industrial Automation, Schneider Electric India said, "Our participation at Automation Expo is a testament to our unwavering dedication to driving automation and digitalization in India. As the nation progresses towards a more connected and sustainable future, the role of automation becomes paramount. At Schneider Electric, we believe in empowering businesses with cutting-edge solutions that not only enhance efficiency and productivity but also contribute to a greener economy. Through our participation in this event, we aim to showcase our commitment to shaping a digitally empowered landscape for India, where innovation converges with sustainability to create a brighter and smarter tomorrow."
Automation Expo is a leading platform for industries in the South-East Asian Region to showcase their latest innovations in digitalization and industrial automation. It was held from August 23 to 26 in Mumbai.
The innovations Schneider Electric announced during the event range from its IoT-enabled, plug-and-play, open, interoperable architecture, and platform, EcoStruxureTM, to solutions that drive efficiency in industries. They include:
Next-Generation Automation:
Lexium Cobot is a collaborative machine featuring next-generation automation and advanced industrial robotics technology. The Lexium cobot is designed to work closely alongside humans, performing uniquely gentle and diligent movements using dynamic torque and speed monitoring. Developed to improve plant productivity and safety, the Lexium cobot helps to minimize downtime caused by labor shortages, something which currently costs factories as much as 20% in productive capacity. The Lexium cobot's technological capabilities qualify it to engage in various applications that would not be possible using conventional industrial robots.
Edge Control
EcoStruxure Automation Expert V23.0: The world's first software-centric industrial automation system now delivers software-based redundant automation solutions for the water desalination market. This extends the EcoStruxure Automation Expert portfolio to become the single control software platform that brings convergence across machine, hybrid, and process industrial operations. New features in V23.0 include enhanced integration with AVEVA System Platform to reuse graphics from existing applications for faster system design, and a new graphical editor for procedural automation which improves operational effectiveness. The new release brings multi-OS compatibility with the EcoStruxure Automation Expert HMI and archive now available on Linux, in addition to Windows, which allows users to develop similar objects across all compatible operating systems.
AVEVA
Now fully owned by Schneider Electric and operated as an independent and autonomous business, AVEVA will present its new vision for industrial software: an agnostic and cloud-enabled platform where companies can collaborate, innovate, and share data through the connected industrial economy. Visitors will be able to see how AVEVA's digital twin (the foundation of the industrial metaverse) will bring this vision to life. From asset design to asset optimization, AVEVA will demonstrate the value of well-managed industrial information to drive efficiency and sustainability.
Services
Schneider Electric's experts and consultants will be on hand to share details about the company's refreshed services portfolio which helps industrial companies accelerate their digital transformation. They will also discuss strategies for reaching sustainability goals, demonstrate how the company can help industrial customers tackle their key challenges, and showcase the benefits of diverse energy portfolios with greener energy sources.
In addition to this, Schneider Electric will also continue to showcase its existing EcoStruxure Machine Architecture, EcoStruxure Plant Architecture, and focused Core Segment Applications.