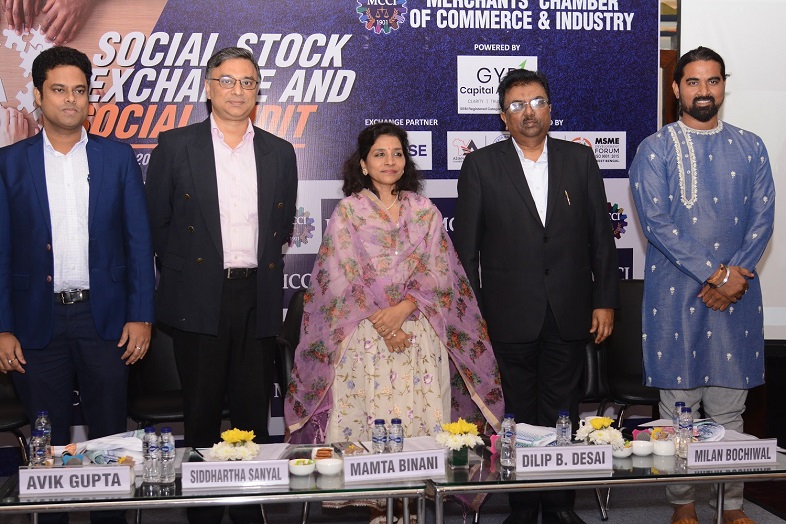 Kolkata, 10th June, 2023: Merchants' Chamber of Commerce & Industry organized a Special Session on Social Stock Exchange and Social Audit Curated by Mamta Binani, Past President ICSI & Chairperson of the Legal Council of Merchants' Chamber of Commerce and Industry. Shri Aniket Talati, National President, The Institute of Chartered Accountants of India, Smt Rupanjana De Central Council Member, Institute of Companies Secretaries of India, Shri Vijender Sharma, National President, Institute of Cost & Management Accountants of India, Shri Dilip B. Desai, Chairman, DHC – Desai Haribhakti, Shri Rajnish Goenka, National President, MSME Development Forum, Smt Rachana Bhusari, Vice President, National Stock Exchange of India Ltd., Shri Milan Bochiwal, Advisor, GYR Capital Advisors, Merchant Banker, Shri Siddhartha Sanyal, Chief Economist & Head Research, Bandhan Bank, Shri Avik Gupta, Senior Manager, Primary Markets Relationships, National Stock Exchange of India Ltd and Smt Sahana Bhowmick, Director, DITO Social Welfare Association spoke at the session. While Desai, Sanyal, Gupta & Bochiwal were physically present in the session, the rest spoke online.
On this occasion, CS (Dr.) Adv. Mamta Binani, Past President ICSI & Chairperson of the Legal Council of Merchants' Chamber of Commerce and Industry said, "The Social Stock Exchange (SSE) was created as a platform to enable social enterprises to access a variety of funding organizations. It bridges the gap between the For Profit Organizations (FPO) and the Non-Profit Organizations (NPO) by serving as a medium for enterprises to seek finance for their social initiatives, acquire visibility and provide increased transparency and accountability about fund mobilisation and utilisation. The SEBI's ICDR Regulations for 2018 provide 16 compelling criteria, such as addressing hunger, poverty, and malnutrition, advancing education, employability, equality, and environmental sustainability, among other important considerations."
When we talk of inclusive growth or sustainable development goals, we need planning at every stage of implementation and each implementation needs financial support. The idea of a Social Stock Exchange has been conceived to streamline charity under a regulatory framework – a framework that would allow Social Enterprises to raise funds through the securities market, said Rachana Bhusari.
Social enterprises have now become more important than ever, especially in the Covid-induced pandemic scenario, where social enterprises, be they profit-making or non-profit organizations, played a prime role to keep the world in sustenance.
Union Finance Minister, Smt Nirmala Sitharaman, in her budget speech for 2019- 20 told of creating a Social Stock Exchange under the ambit of the Securities and Exchange Board of India to harness the powers of the Capital Market. The idea was to form a separate segment of the capital market, where non-profit organizations, like section 8 companies, trusts, societies, NGOs & even 'For Profit Social Enterprises' could board on the existing platform of the Capital Market, Dilip. B. Desai said adding earlier that philanthropy meant doing social work silently and that it should not be known to anyone but professionalism is being inducted in philanthropy to give clarity to the money being spent on one of the 16 Sustainable Development Goals.