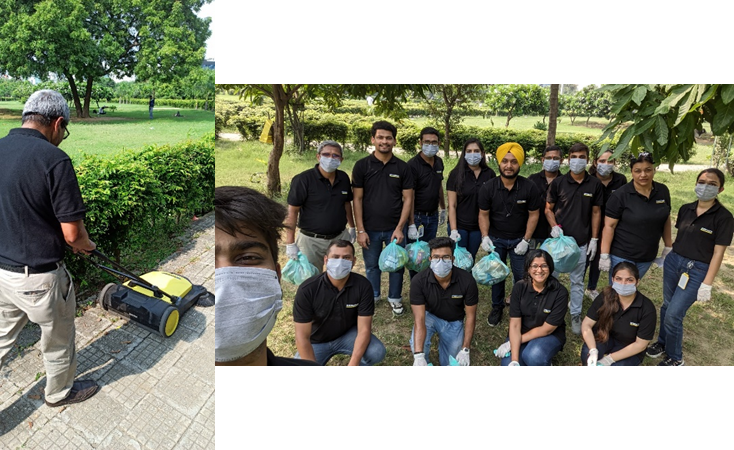 Delhi, 18th September 2023: The Kärcher Clean-Up Day held in Noida, India, was an outstanding success, with an enthusiastic team gathering at the park adjacent to the Kärcher Training Centre. Equipped with masks, gloves, and eco-friendly garbage bags, they were determined to leave a positive imprint on the environment.
This event marked a continuation of Kärcher's commitment to fostering community involvement and enhancing the urban and residential environment. As a global leader in cleaning technology, Kärcher chose to commemorate World Clean-Up Day in September 2023.
With the overarching goal of promoting environmental sustainability and community engagement, Kärcher India's Clean-Up Day initiative garnered remarkable participation, leading to a significant positive impact on the local environment.
Team Kärcher in action, harnessing the power of Kärcher India's cutting-edge cleaning technology solutions.
During the event, Kärcher's team and the enthusiastic volunteers utilized cutting-edge cleaning solutions to clean the park. From removing litter to cleaning up the grassy areas and walkways, the Kärcher Clean-Up Days demonstrate the company's unwavering commitment to making a tangible difference to environmental preservation.
As the Kärcher team entered the park, it was disheartening to see plastic bottles, wrappers, and paper strewn carelessly throughout. Some of these items were easily within reach, while others were stubbornly buried in the soil, requiring extra effort to retrieve. Undaunted by the challenge, the team persevered, unwavering in their commitment to cleanliness and sustainability.
In addition to picking up litter, they deployed their manual sweepers to thoroughly clean walkways and paths, leaving them spotless and inviting for park-goers. The sense of accomplishment the team felt as they surveyed the transformed park was immeasurable.
Commenting on the occasion, Mr. Jatinder Kaul, Managing Director, Kärcher India, said, "Kärcher's promise of sustainability goes far beyond just words. Today's initiative stands as a testament to the unwavering commitment of our team to make a difference in even the smallest ways. On the occasion of Kärcher Clean-Up Days, we reaffirm our dedication to cleaning up not just parks, but also our environment, one step at a time, one machine at a time."
Kärcher remains steadfast in its dedication to sustainability, and the resounding success of the Kärcher Clean-Up event underscores the company's commitment to fostering a cleaner, greener future for all.