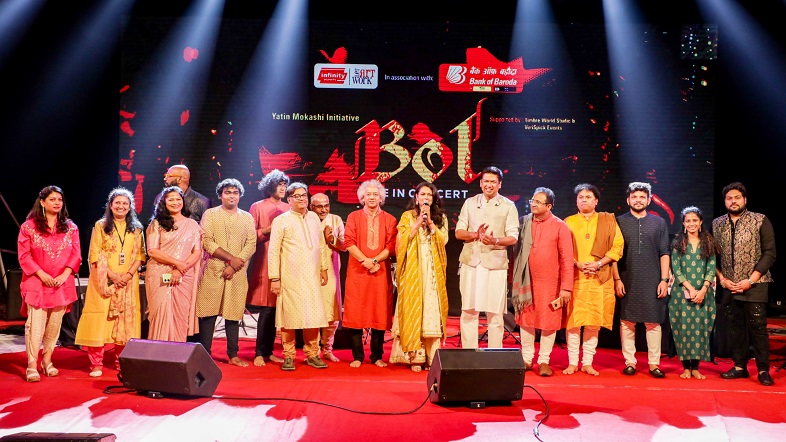 Bengaluru, 5th September 2023: The eight highly-talented and well-acclaimed musicians left thousands of Bengaluru's music aficionados mesmerised with their talent at the weekend at the Chowdiah Memorial Hall.
The incredible talent of Ustad Taufiq Qureshi, Vijay Prakash, Priyanka Barve, Satyajit Talwalkar, Sridhar Parthasarthy, Shikhar Naad, Ajay Joglekar, and Kaushiki Joglekar left the crowd who had come to see the best talents in the country at the highly-anticipated "BOL" Concert enthralled and lost in a world of high quality music performances!
Speaking of the concert, the mastermind of BOL Concert Yatin Mokashi, a tabla artiste and founder of Infinity Events, said, "We were very happy to host artistes from across the country in the city of Bengaluru to celebrate music and talents. The collaboration of the eight artistes had the audience spell-bound." Mokashi is a disciple of tabla maestro Ustad Allarakha Ji.
Ustad Taufiq Qureshi, known for his exceptional skills on the Djembe and drums, showcases his mastery of rhythm and percussion. Vijay Prakash, the soulful singer left the audience enchanted with his melodious renditions. Priyanka Barve, with her magical and captivating voice, left everyone in the audience spellbound. Satyajit Talwalkar, Sridhar Parthasarthy, Shikhar Naad, Ajay Joglekar, and Kaushiki Joglekar only added to the unique flavor to the concert with their expertise in tabla, mridangam, harmonium, Djembe, and keyboards respectively.
The evening had enchanting melodies taking the audience on a journey through the various music genres, from Indian classical and fusion to folk, ghazal, Bollywood, and contemporary music. The "BOL" Concert lived up to its promise by giving a truly unforgettable experience, transporting the hundreds of attendees into the realm of soul-stirring music.
"BOL" Thematic Concert is brought to you by Infinity Events India Shree Yatin Mokashi Initiative (Tabla Artist) Let Art Work Studio Productions in Association with Timbre World Studio and Verispick Events. The event sponsored by Bank of Baroda.