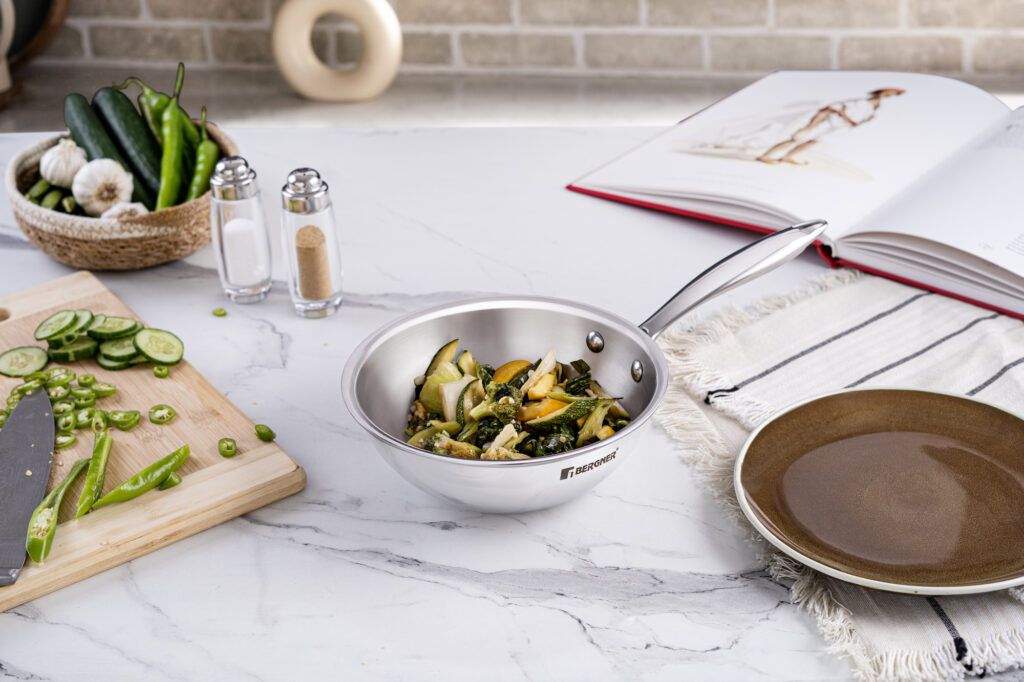 Mumbai, June 20, 2023 – Bergner, a renowned name in the cookware industry, is thrilled to announce the launch of its latest range of cookware in India: Argent Mini and Bellini+ Aura.
Argent Mini is the first-ever Mini triply range that seamlessly transitions from oven to table.
Traditionally, individuals cooking for themselves or in small quantities have faced the challenge of using oversized cookware that doesn't quite fit their needs. With Argent Mini, Bergner has ingeniously solved this problem by offering a range of cookware that seamlessly transitions from cooking to serving.
The Argent Mini range includes an assortment of versatile casseroles, kadhais, saucepans, wok and frypans. Each piece is thoughtfully designed to provide hassle-free cooking and meal reheating options, catering specifically to the needs of those cooking for themselves or in smaller households. A standout feature of the Argent Mini range is its compact size, making it perfect for kitchens with limited space. Additionally, the stackable and nesting design of these cookware pieces adds another layer of convenience, enabling easy and organized storage.
Bergner's commitment to delivering high-quality cookware is evident in every aspect of the Argent Mini range. This mini triply range is an industry first innovation and Bergner hopes to leverage the first mover advantage through this product launch.
Another new product launched is the Bellini + Aura range. The Bellini+ Aura range stands out due to its innovative rivetless technology, which addresses common concerns regarding hygiene. Unlike traditional cookware with rivets that can harbor bacteria, the rivetless handles eliminate the risk of bacterial formation. This state-of-the-art feature not only promotes a healthier cooking experience but also facilitates effortless cleaning. Furthermore, the absence of rivets allows spatulas to glide seamlessly on the surface, enhancing the overall cooking process.
Adding to its appeal, the Bellini+ Aura range features an ergonomic design, highlighted by its wooden-finished soft-touch handle. This design ensures greater convenience and comfort while cooking. Additionally, the cookware is equipped with heat-resistant flame guards, offering a safe and secure grip during and after cooking. The range encompasses a variety of versatile options, including casseroles, tawas, frypans, deep frypans, kadhais, and saucepans.
Commenting on the launch, Aruni Mishra, CEO of Bergner India said, "At Bergner, our primary focus has always been convenience and quality as we constantly evolve to meet the requirements of our customers. We are excited to introduce two new cookware ranges, Argent Mini and Bellini+ Aura, which are designed to enhance convenience and provide an exceptional cooking experience. These ranges have been developed in accordance with our stringent quality standards, ensuring they surpass expectations. Experience the joy of cooking with our new cookware ranges".
Discover the joy of cooking with Bergner's Argent Mini and Bellini+ Aura cookware ranges.
To make these exceptional cookware ranges accessible to customers, they will be available for purchase through various online channels as well, such as Amazon, Myntra, Tata Cliq, Nykaa, Reliance, Shoppers Stop, and others. Additionally, customers can find the ranges at general trade and modern trade retailers.