Hyderabad, 18th October 2023: Maxivision Eye Hospital, one of the leading names in eye care networks in Telangana and beyond, is thrilled to announce the expansion of its services to three new state-of-the-art centers in Hyderabad. With the aim of making quality eye care accessible to all, Maxivision is proud to extend its footprint in the south of India, offering cutting-edge eye care solutions in its 3 new centers: Attapur, Manikonda, and Tarnaka.
Maxivision Eye Hospital has maintained an enduring commitment to elevating eye health and enhancing the vision of communities throughout Telangana. In a recent testament to this commitment, Maxivision made a significant investment of over 8 Crores in upgrading its technology and improving the facilities at its Super Specialty Hub center in Somajiguda. This substantial investment has led to the establishment of a dedicated facility to cater to the healthcare needs of EHS and Arogyasree patients, exemplifying the hospital's steadfast dedication to delivering the highest quality care to all segments of patients.
In July 2023, Maxivision secured a substantial investment of 1400 Crores from Quadria Capital, one of the largest healthcare investors in Asia. These funds are earmarked for the purpose of expanding Maxivision's network across various regions of India, including Telangana, Andhra Pradesh, Tamil Nadu, Kerala, Karnataka in the South, and Gujarat, Maharashtra, Madhya Pradesh, and Odisha in the West and Central parts of the country.
Maxivision Eye Hospital presently operates ten centers in diverse locations throughout Hyderabad. Today, an additional three centers will be incorporated into the Hyderabad network. These new facilities in Attapur, Manikonda, and Tarnaka will bring world-class eye care services closer to the residents of Hyderabad, offering comprehensive, affordable, and top-quality treatments. Notably, the Tarnaka center is a primary eye care facility led by the highly esteemed eye surgeon in Hyderabad, Dr. Narahari Yamjala, Sr. Cataract & Refractive Surgeon, who possesses more than two decades of experience in eye care surgery. Tarnaka will operate as a primary eye care center, supplemented by Tele Ophthalmology services.
In contrast, Manikonda and Attapur centers will function as super-secondary care facilities, equipped with advanced technologies in eye care to address a spectrum of conditions, including Cataract, Glaucoma, Retina, Cornea, Oculoplasty, and LASIK procedures. Additionally, all these centers will provide a comprehensive range of optical and pharmacy stores, ensuring that patients receive complete eye care solutions.
Neuberg Labs, an associate company of Maxivision Eye Hospital, will operate full-fledged pathology collection centers in these centers. The Eye care centers are operated by highly experienced ophthalmic surgeons, Dr. Narahari Yamjala, Sr. Cataract and Refractive Surgeon, Dr. Venkateswarulu, Sr. General Ophthalmologist, Dr. Asmath Sirisha, Phaco and Refractive Surgeon, Dr. Matta Rudhira Reddy, Medical Retina Specialist, Dr. Divya Jain, Phaco Surgeon. There will be visiting Super Specialists from other centers in Hyderabad to cater to all the needs of the entire gamut of eye care.
These centers are equipped with world-class Modular Operation Theater designed to maintain a sterile, infection-free environment. They boast state-of-the-art technology for Micro Incision Phaco Cataract surgeries, specialized Diabetic Retina Care, dedicated Pediatric eye care, and a wide range of other cutting-edge facilities, making them the ultimate destination for all your eye care needs.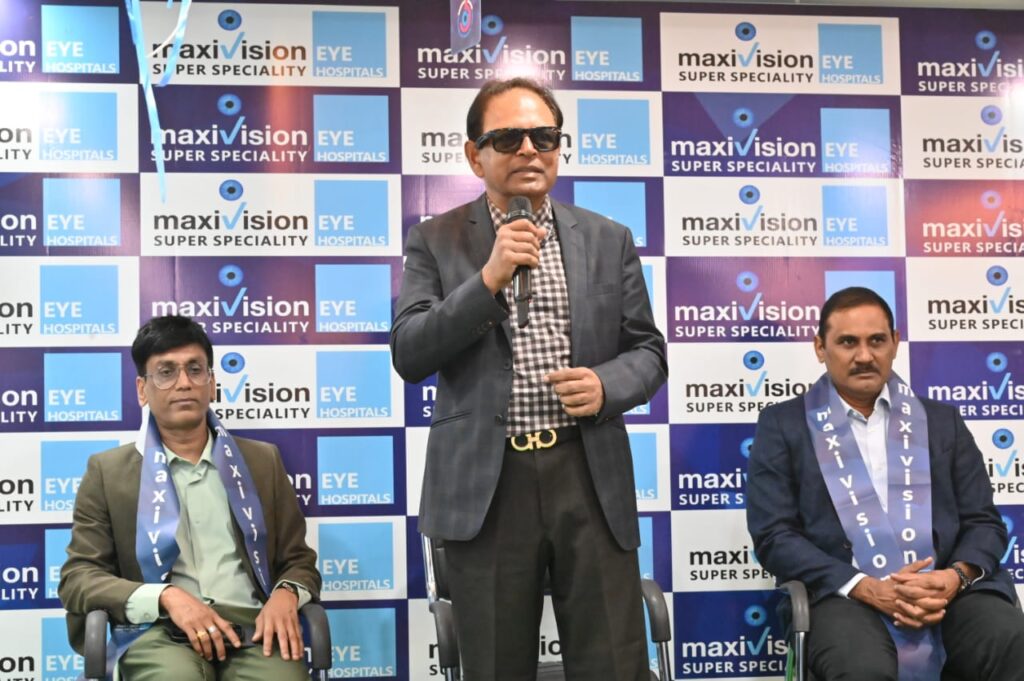 Maxivision's state-of-the-art hospitals in Hyderabad have the capacity to serve up to 1,000 patients per day, and they can perform over 100 surgeries daily. These facilities are furnished with the latest diagnostic and surgical equipment, seamlessly connected through Tele Ophthalmology services. This technology not only enhances convenience but also enables senior citizens to have teleconsultations from the comfort of their homes, ensuring that all patients receive the highest standard of care for their eye health requirements.
Dr. Kasu Prasad Reddy, Founder, Chief Mentor, and Co-Chairman of the Maxivision Group of Eye Hospitals highlighted, "Our expansion into Attapur, Manikonda, and Tarnaka is a testament to our commitment to grow our network to various parts of Telangana and Andhra Pradesh. My vision was to bring accessible and affordable high-technology eye care to India, and I am happy to see that Maxivision along with investors is working towards this great vision to bring cutting-edge eye care closer to the people of Telangana. We're dedicated not only to giving the best technology but also to ensuring that every patient is treated by the most experienced doctors and surgeons, who are trained in our centers in super precision diagnostics and also high-skill surgeries."

Dr. Sarath Babu Chilikuri, Managing Partner with Sarath Maxivision Eye Hospitals in Warangal, and Chief Medical Director said, "After my 26 years of practice, in the year 2019, I partnered with Maxivision to envision my ambition of good eye care practices to various regions, especially in Tier 2, Tier 3 towns in Telangana. In the past 4 years, we have grown from 14 hospitals to 43 which is an amazing growth trajectory, which could be possible only because of the immense trust bestowed on the brand Maxivision for our good and ethical eye care services. Today, we have partners, who are from Gujarat, Kerala, and Tamil Nadu, who are taking Maxivision's reputation to different parts of the country. I am happy to be a significant partner in this growth journey, and commit myself to render my best services, knowledge, and experience to fortify this growth."

Adding more Mr. VS Sudheer, Group CEO, of Maxivision Group of Eye Hospitals said, "We are thrilled to announce our expansion as we open three new centers in Hyderabad. At Maxivision, our unwavering mission is to provide accessible and affordable eye care for all, and these new centers represent a significant step toward realizing this commitment. Bolstered by an investment from Quadria Capital, our vision is to extend our exceptional eye care practices and renowned brand reputation to various parts of the country. Our primary focus remains on Telangana, Andhra Pradesh, and Tamil Nadu, where we have already established ourselves as the preferred destination for eye care across a network of 35 hospitals.

Additionally, we have ambitious growth plans in Karnataka and Kerala by the end of this year. Currently, Maxivision has a presence in Gujarat with eight hospitals in Rajkot and Surat. In the coming months, we are set to launch operations in Kerala and Maharashtra, followed by expansion into Madhya Pradesh and Karnataka by January 2024. By the close of the financial year in March 2024, our network will encompass a total of 65 hospitals spanning seven states in India. Our core focus is centered on establishing state-of-the-art eye care hospitals, incorporating the latest technology, and staffed by experienced doctors, utilizing both Greenfield and partnership models.

Currently, we are proud to have six partners, each with a remarkable track record of over 30 years in the field of eye care, contributing to a collective experience of over 150 years. Looking forward, by March 2024, we anticipate welcoming over 10 partners in various locations, further enriching our group with additional expertise and reputation, as we continue to provide top-notch eye care services to communities across the nation.