In a ground-breaking move towards sustainable luxury living, the Gulshan Dynasty, located in Sector 144, Noida, has achieved the remarkable distinction of being Noida's First Platinum Rated Green Home. The Gulshan Group leads the entire NCR in delivering a higher level of sustainability certification from IGBC under the Home category.
At a towering 34 floors high, Gulshan Dynasty stands as a beacon of sustainable design, redefining the concept of contemporary luxury living. The project embodies the essence of a green building, focusing not only on the structure itself but also on its residents' surroundings and well-being.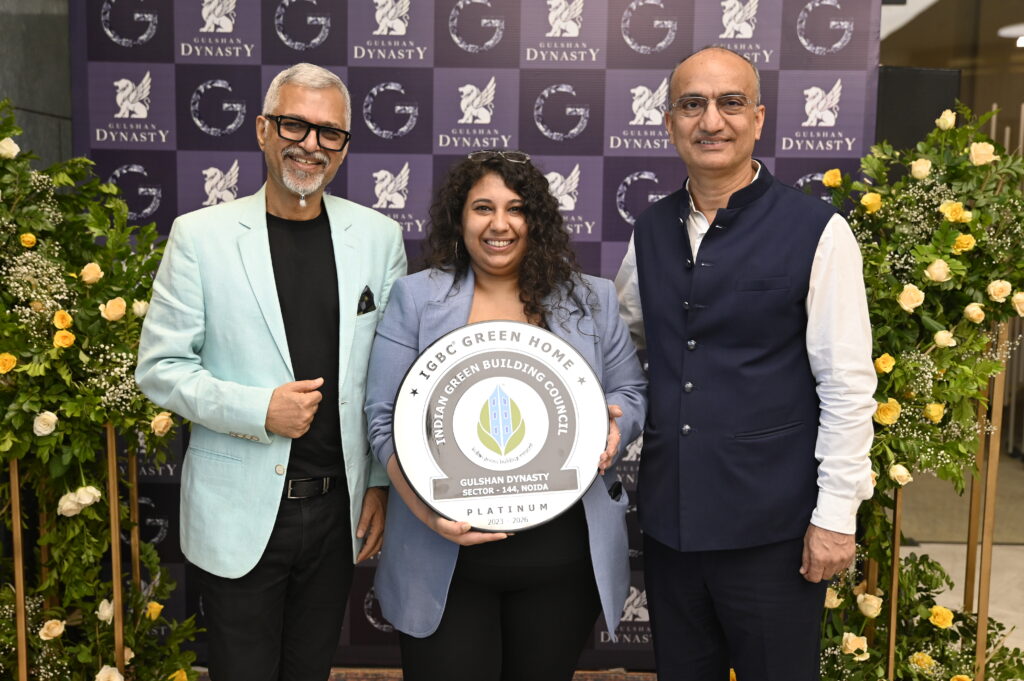 "Gulshan Dynasty is not just a residence; it's a testament to the future of luxury living—a future where opulence harmoniously coexists with environmental responsibility. The project stands as a shining example of how construction can be both luxurious and environmentally responsible, contributing to a healthier planet for future generations," says Yukti Nagpal, Director, Gulshan Group.
Gulshan Dynasty's Platinum Rated Green Home by the Indian Green Building Council (IGBC) is a testament to the synergy between well-established sustainable techniques and innovative green ideas.
The IGBC rating system encompasses various green characteristics, including site preservation and restoration, efficient water and energy usage, responsible resource management, and innovative design processes. Buildings must meet rigorous threshold criteria to earn certification or pre-certification. The benefits of living in a Platinum Rated Green Home include:
Conservation of Water: The implementation of energy-saving measures ensures the conservation and reuse of up to 50% of water through methods such as rainwater collection and advanced irrigation system management.
Conservation of Energy: By saving 20-30% of energy consumption, the Gulshan Dynasty promotes a more eco-conscious lifestyle and reduces the demand for natural resources.
Waste Management: Each residence features a mandated waste treatment system, enabling the collection, repurposing, and reuse of waste materials.
Excellent Daylighting: Abundant natural sunlight reduces the need for artificial lighting, resulting in cost savings and health benefits.
Lower Energy Bills: Green building features contribute to 15-20% savings on power costs with the integration of solar heating systems and energy-efficient design elements.
Improved Health: Continuous air circulation, natural air filtering through plants, solar chimneys, and enhanced natural illumination enhance residents' quality of life while reducing reliance on electrical appliances.
Lifestyle Benefits: Emphasizing sustainable development, the Gulshan Dynasty incorporates eco-friendly materials, furnishings, and light-colored interiors, enhancing the overall quality of life for its residents.
As the luxury real estate sector has experienced substantial growth in the last few years, the Gulshan Dynasty has positioned itself to meet the discerning preferences of high-net-worth individuals and millennials. Spread across 5.8 acres, Gulshan Dynasty comprises three towers soaring to 34 floors, offering 198 apartments and 6 Duplexes. With an exclusive ratio of only 36 units per acre and just two apartments per floor, Gulshan Dynasty promises privacy, space, and an unrivalled living experience.