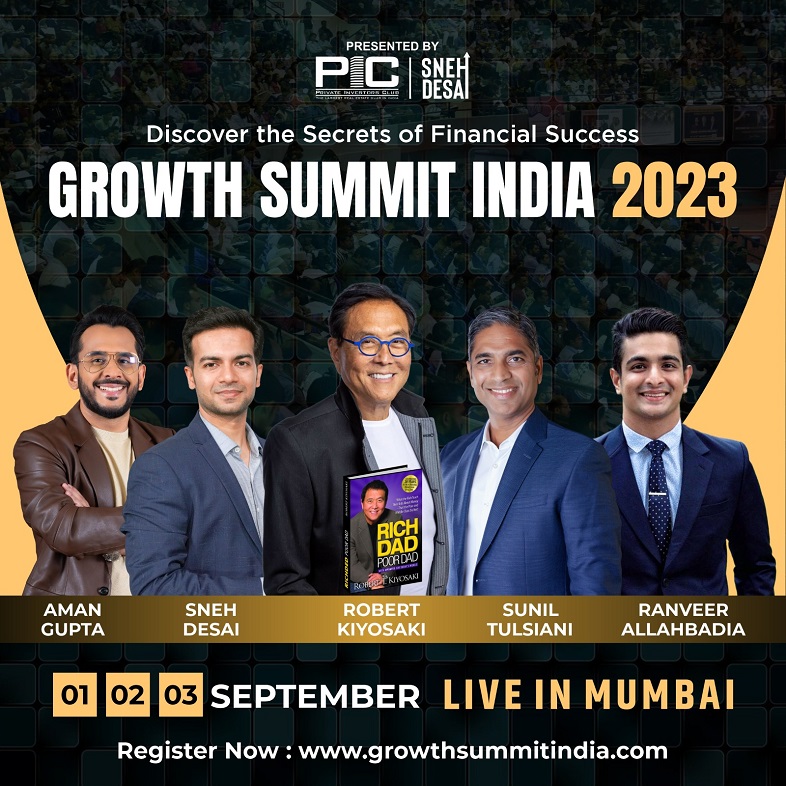 Growth Summit India gears up for 2nd Season: 'Discover the Secret of Financial Success' with Esteemed Lineup of speakers Mr. Robert Kiyosaki, Mr. Aman Gupta, Mr. Sunil Tulsiani, Mr. Robert Allen, Sneh Desai, Ranveer Allahbadia, Dev Gadhvi, Coach Bsr, Dr. Sandeep Gupta & Rahul Jain at the prestigious summit that will be held on September 1st, 2nd, and 3rd in Mumbai, India.
Join us for an enriching three-day Summit, commencing on September 1st. Day 1 offers an exclusive meet & greet at the Taj Santacruz, where attendees can interact with luminaries like Mr. Robert Kiyosaki, Mr. Aman Gupta, Mr. Sunil Tulsiani, Mr. Robert Allen, and Sneh Desai. On September 2nd, the renowned lineup reconvenes at the Sardar Vallabhbhai Patel Indoor Stadium, unveiling the path to prosperity by delving into the secrets of financial success. Concluding on September 3rd at the Hotel Sahara Star, this transformative session promises deep insights.
Mr. Sunil Tulsiani said, "We are truly elated to welcome an exceptional line-up of speakers for our 2nd season of 'Growth Summit India.' Our audience can expect profound insights into the Secrets of Financial Achievement, empowering them to apply the valuable takeaways from three days brimming with innovative strategies, industry wisdom, and transformative networking opportunities."
About The Speakers:
Mr. Robert Kiyosaki: Renowned worldwide as an influential author and motivational speaker, Mr. Robert Kiyosaki stands as an eminent figure in the realm of personal finance. He is most celebrated for his global bestseller, "Rich Dad Poor Dad."
Mr. Aman Gupta: An enterprising Co-Founder of boAT, Mr. Aman Gupta excels in leadership development and personal growth expertise.
Mr. Sunil Tulsiani: Highly sought-after and celebrated in the realm of public speaking, Mr. Sunil Tulsiani is a distinguished real estate investor. His mastery lies in guiding individuals to amass wealth through real estate investments and entrepreneurial endeavors.
Mr. Robert Allen: A prominent speaker and bestselling author, Mr. Robert Allen specializes in real estate investment strategies. He has guided numerous individuals and aspiring investors in navigating the intricate landscape of real estate and achieving financial prosperity.
Sneh Desai: A highly acclaimed Life and Business Coach based in India, Sneh Desai boasts a remarkable 25-year career. Through his innovative coaching techniques, he has positively impacted 2.5 million individuals. His exceptional contributions have garnered recognition and praise from celebrities and major brands alike.
Ranveer Allahbadia: Widely recognized as "Beer Biceps," Ranveer Allahbadia is a prominent Indian YouTuber, entrepreneur, and Founder of the meditation-focused app, "level." His motivational content has inspired millions, urging them to embrace healthier lifestyles. Through his YouTube channel, BeerBiceps, he shares workout routines, nutrition advice, and his personal fitness journey.
Dev Gadhvi: An accomplished figure in personal development and motivation, Dev Gadhvi is passionate about empowering individuals to unlock their true potential. As a sought-after speaker, coach, and author, he has dedicated his career to helping people lead fulfilling lives.
Coach BSR: A respected and influential name in the coaching realm, Coach BSR is devoted to unleashing human potential and guiding individuals toward success. Renowned for transformative coaching methods, they have assisted countless individuals in surmounting obstacles, setting meaningful goals, and achieving their aspirations.
Dr. Sandeep Gupta: Known as Wealthy Sandeep, Dr. Sandeep Gupta brings over 15 years of experience from his roles in financial institutions such as Max Life, SBI Cards, ICICI Bank, Kotak Mahindra Bank, and Standard Chartered Bank. He founded Wealth Accelerator Hub in 2020, impacting more than 1 lakh people across India through his Financial Education Company.
Rahul Jain: A pioneer in introducing the concept of Business Coaching to India 19 years ago, Rahul Jain is the Founder and Director of Business Coaching India LLP. With over 25 years of hands-on experience in companies like TATA MOTORS and as a serial entrepreneur, he has coached over 21,000 business owners, helping them achieve the remarkable results of operating their businesses one day a week and doubling their profits annually.